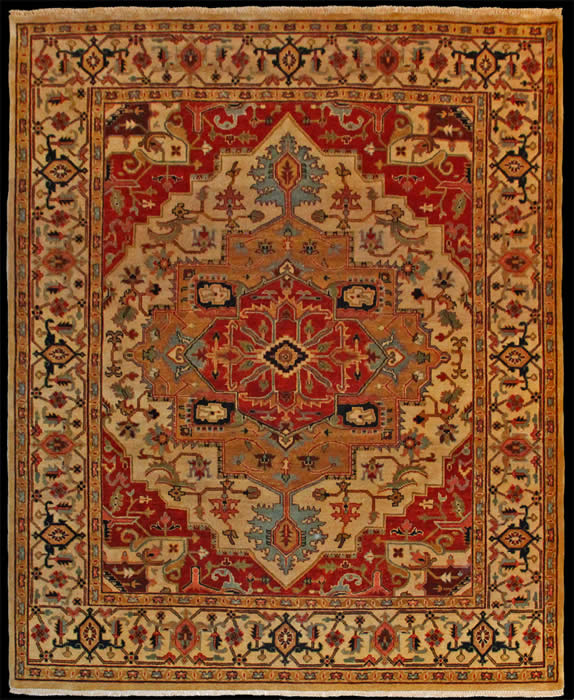 About Fine Estate Rugs
Fine Estate Rugs was established in 2002 with the goal of offering quality 'genuine article' handmade rugs at reasonable prices to the central Indiana retail consumer and designer marketplace.
We have around five hundred rugs in stock and more coming in all the time. A quick summary of our main lines:


Large, Antique Persian Rugs
Room-sized Persians of many varieties. Many antique and semi-antique varieties available: Mashad, Esfahan, Tabiz, Heriz, Qum, Bidjar, Maymeh, and others. Large sizes from 6' x 9' up to 11' x 14'. Very well priced for stunning, handmade works of art. Some small sizes but most of our Persians are room-size rugs.


Antique Persian Tribals
Unique Sherazi and Qashqai wool-on-wool pieces from the 1940s. The Persian tribals typically exhibit a low knot count and are sometimes touched with aniline dye problems. Wonderful pieces -- very 'lodge-y' and warm. Sizes tend to be around 5' x 8'.


Kargai and Khal Mohammadi Rugs
Two varieties of Caucassian origin, tending to be geometric in design. Both styles employ natural dyes and we're well-stocked in sizes from small (2' x 3') up to 7' x 10'. Both semi-antique and new pieces available.


Chobi Rugs
Chobis are made exclusively with natural dyes, tend toward beige backgrounds and are almost all of a floral design. They're great for decorating, typically offering easy colors and an understated look. Sizes from 2' x 3' to 12' x 15'.


Kazak
A popular Caucassian variety which employs natural dyes and geometric forms. Typical coloring has reds and medium blues on a beige base with the pile cropped short. Sizes up to 8' x 11'.


Flatweave, Samok and Senneh Kilims
Wonderful Persian and Afghan semi-antique flatwoven pieces in various styles and types. Very fun tribal rugs in a wide range of sizes.


Other Caucasian Styles
We try to always have a nice selection of other Caucasian varieties including Shirvan, Kuba, Salor and Turkomen rugs. Please feel free to stop in and peruse. We strive to make your rug shopping experience fun and interesting while providing a highly-unique, handcrafted product at a reasonable price.